Maxi-Cosi FamilyFix 360 Car Seat Base - Black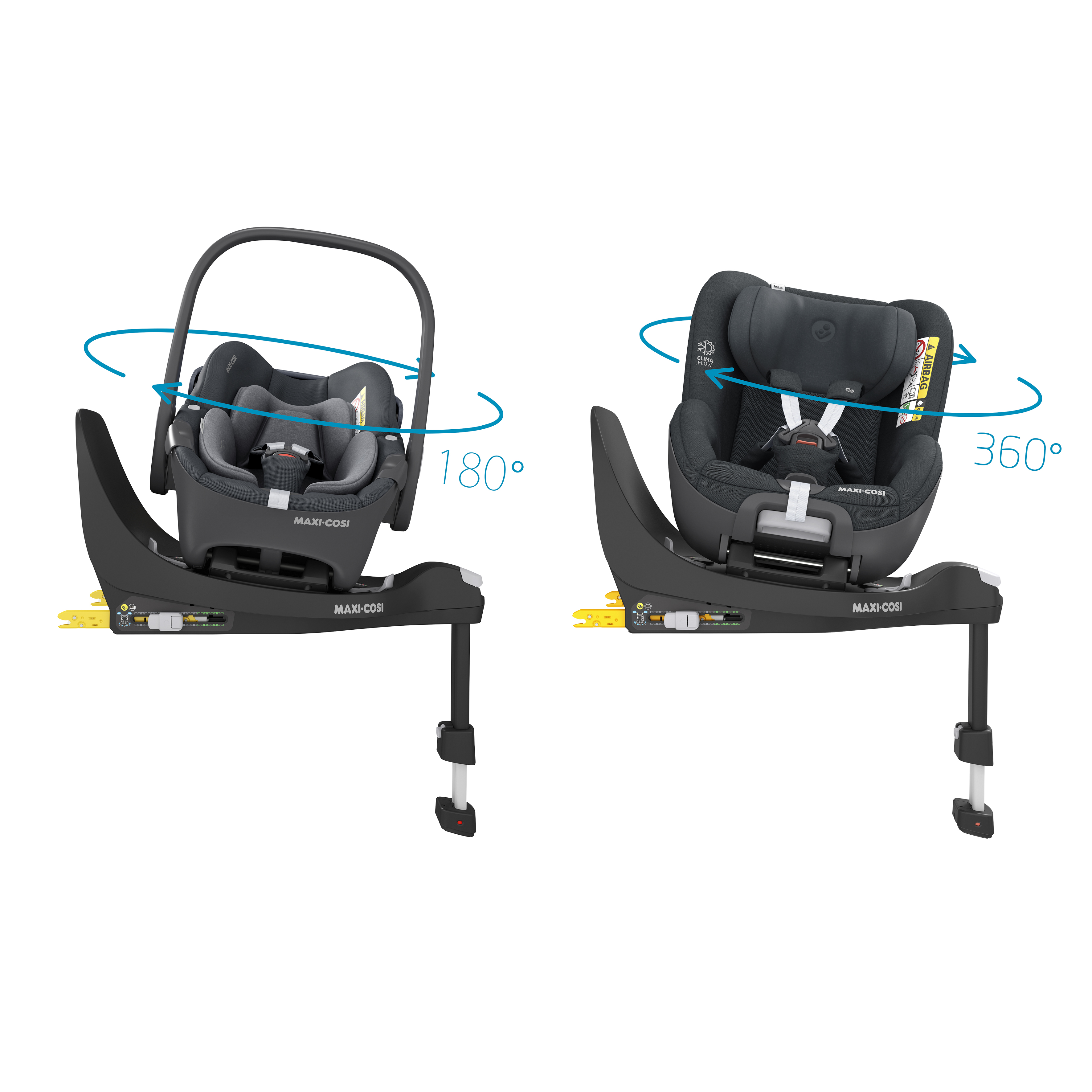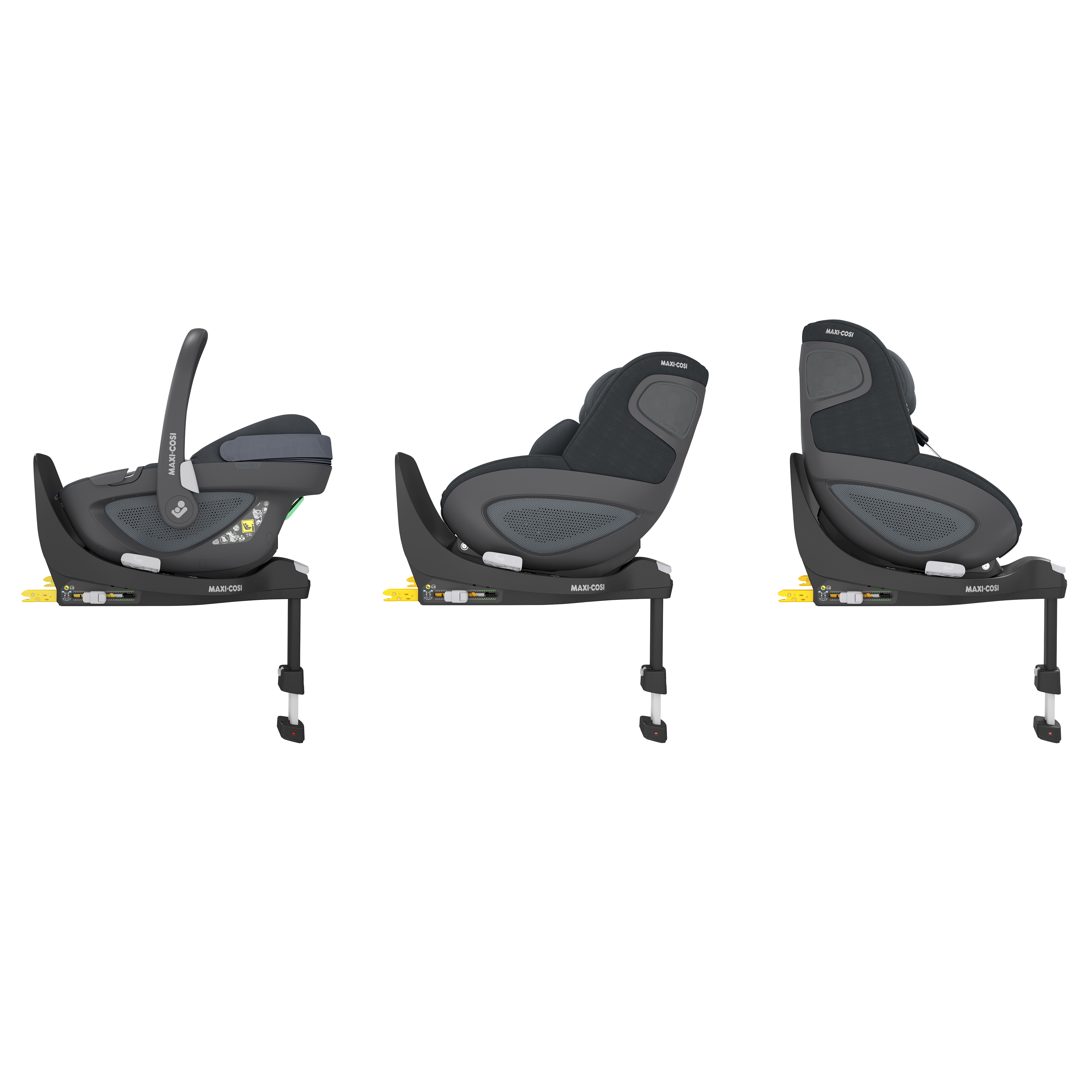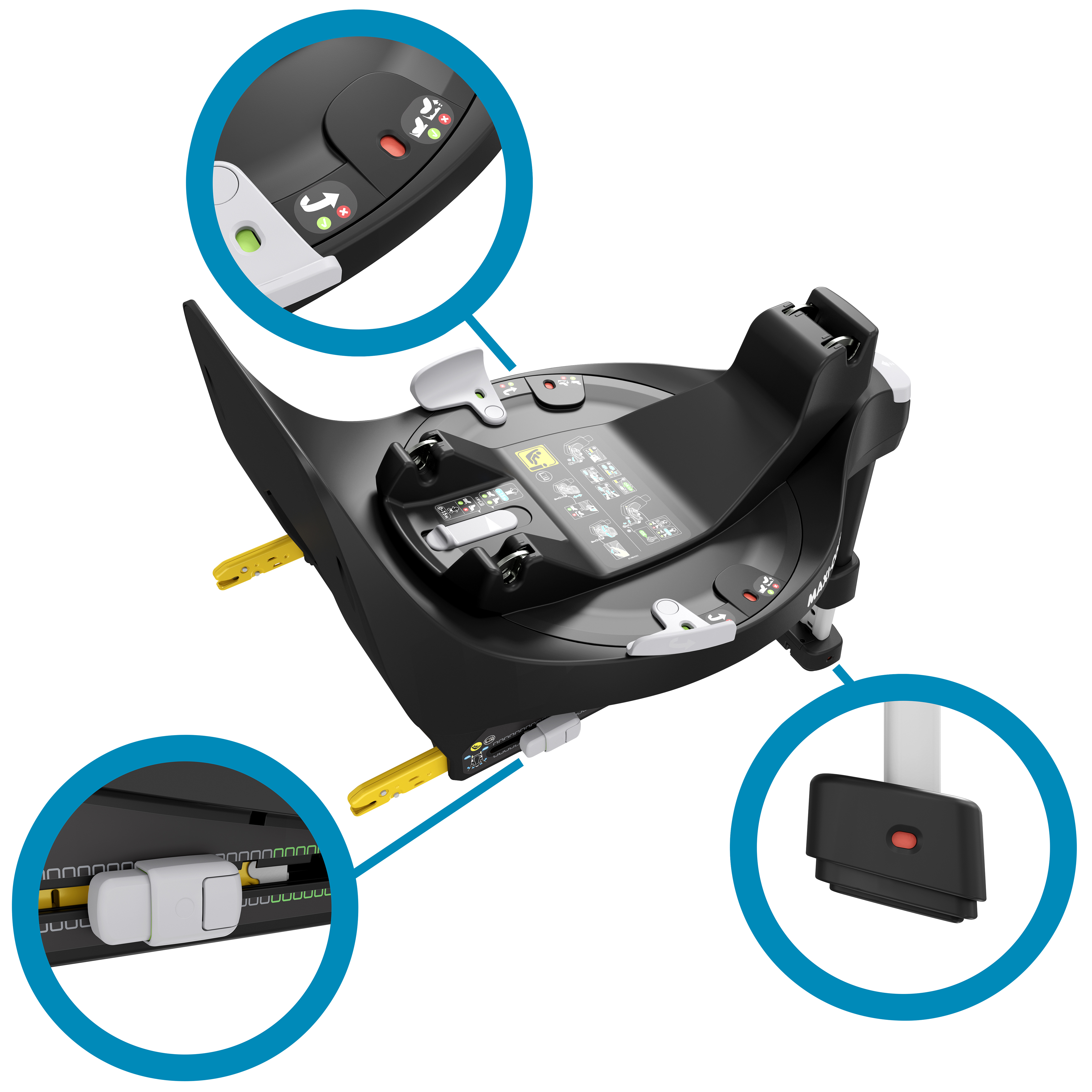 Product Description
We understand that children grow up fast. That's why we've designed the unique 360 Family. This next generation rotating car seat system, consisting of a rotating FamilyFix 360 base and compatible Pebble 360 & Pearl 360 car seats, carries your baby from newborn up to 4 years old! The Maxi-Cosi FamilyFix 360 base allows quick, easy installation of the Maxi-Cosi Pebble 360 and Maxi-Cosi Pearl 360 car seats. And you can do it all without leaning over and straining your back.
INSTALLATION
Our FamilyFix 360 base is equipped with ISOFIX connectors and a support leg to provide the safest, easiest and quickest way of installing your car seats. Follow the steps in our user manual for it to be correctly installed into your car.
Once installed, you can leave the Maxi-Cosi FamilyFix 360 in the car and install the Maxi-Cosi car seats easily with Click & Go installation. Thanks to the 360 rotation handle on the base, the 360° car seats can be rotated smoothly and easily using only one hand - perfect for busy parents with their hands full. FlexiSpin technology makes the base rotate in any reclined position.
SAFETY
Visual indicators and audio feedback on the base notify you when your car seat is correctly installed and the TravelSafe Rotation Control gives peace of mind knowing your baby travels in the rearward-facing position up to approx. 15 months.
The Maxi-Cosi FamilyFix 360 is i-Size compliant, thanks to rearward-facing travel capability of up to 4 years for extra head and neck protection.
Built for long-term use, our next generation rotating car seat system is designed to carry your baby from newborn up to 4 years old! The compatible 360° car seats are so easy to rotate, you can even do it one-handed.
Unique selling points (USP):
Intuitive one-hand rotation: The FamilyFix 360 base has a smart built-in rotational system that enables compatible 360 car seats to be easily rotated using only one hand.
FlexiSpin Rotation: FlexiSpin technology makes the base rotate in any reclined position.
Rearward and forward facing from birth up to 4 years: Safe rearward facing and forward facing travels possible from birth up to 4 years.
Audiovisual installation feedback: Visual indicators and audio feedback notify you when your car seat is correctly installed.
Limitations:
Please don't select reviewers with a 3-door-car model
Product Specifications
Color

Package Dimensions

69.5 cm (l)

41.8 cm (w)

42 cm (h)

Package Weight

10.4 kg

SKU number
8043010110
---
Fantastica y muy segura para mi bebe
Es un producto muy practico ya que tiene giro 360º. Puedes girar la base con una simple mano lo que es muy cómodo si llevas a tu bebe en brazos. Es muy fácil e instuitivo de montar. El isofix acopla perfecto y junto con la pata hacen a la silla muy segura. Tiene bloqueo de giro y así de esta manera los menores de 15 meses siempre van a contra marcha
---
La base perfecta y mas seguridad imposible
Ha sido muy fácil e intuitiva de instalar. Es estupendo que lleve la barra para mayor seguridad. Una vez anclada no se mueve ni un milímetro. Es estupenda y la volveríamos a comprar ya que el pack con el maxi cosi es el combo perfecto para cualquier bebé y más seguridad imposible. Lo volveriamos a usar sin usar
---
Fàcil de instalar y de usar y de buena calidad
La compramos junto con la silla Maxi-Cosi Pearl 360. Es muy fácil de montar gracias a los indicadores que te indican si está bien montado o no pasando de rojo a verde. Es un plus que gire ya que puedes hacerlo muy fácilmente con una mano para poderlo sentar o sacar del coche más cómodamente y por si quieres sentarlo de cara a la marcha. Nosotros esta opción no podemos usarla al tener otra silla de niño pegada a ella pero si es bueno saber que tienes la posibilidad de hacerlo si las separas. De momento estamos encantados con la compra.
---
360 base is superhandig en makkelijk in gebruik
De FamilyFix 360 base met ISOFIX is superhandig om te hebben wanneer je een autostoeltje hebt. De base zorgt ervoor dat je kind beter beschermd en veilig in zijn stoel zit, en dat je je minder zorgen hoeft te maken over hoe het kind in de auto is gepositioneerd. De installatie is een fluitje van een cent en was binnen enkele minuten gedaan. Maar we hadden al eerder een FamilyFix, dus we wisten hoe het werkt. Het is goed om te zien dat het een kliksysteem heeft, zodat je zeker weet dat je het goed en correct hebt gedaan en je geen zorgen hoeft te maken of het wel of niet goed is bevestigd. Het is 360 graden draaibaar, wat betekent dat de stoel op deze base 360 graden kan draaien. Dit is het handigste systeem dat ik tot nu toe heb gezien, omdat het veel gemakkelijker is om de baby eruit te halen of erin te zetten. Al met al zijn we super blij met deze base en het is geweldig dat we hem lang kunnen gebruiken.
---
Cambiare le Regole del Viaggio: La Base Isofix Maxi-Cosi FamilyFix 360
La base Isofix Maxi-Cosi FamilyFix 360 è stata una vera svolta nel nostro viaggio genitoriale. Questo accessorio ha reso il trasporto del nostro bambino in auto incredibilmente semplice ed efficiente. L'installazione è una passeggiata. Basta agganciare la base alle staffe Isofix del veicolo, e il nostro seggiolino auto si blocca saldamente in posizione. Addio agli ingegneri acrobati per l'installazione del seggiolino - ora tutto avviene senza sforzo. La rotazione a 360 gradi è stata una vera rivelazione. Mettere il bambino nel seggiolino è diventato un gioco da ragazzi, indipendentemente dalla posizione in cui parcheggiamo l'auto. La comodità è stata portata a un nuovo livello. Naturalmente, la sicurezza è fondamentale e questa base Isofix offre una stabilità e una connessione solida tra il seggiolino e il veicolo che ci dà totale tranquillità durante i viaggi. In conclusione, la base Isofix Maxi-Cosi FamilyFix 360 è un vero cambiamento di gioco nel mondo dei seggiolini auto. Ha reso i nostri viaggi in auto molto più fluidi e sicuri, e lo consigliamo a tutti i genitori in cerca di praticità e sicurezza.
---
Consigliatissimo, ottima soluzione!
La base ha superato le mie aspettative. La rotazione a 360° semplifica l'accesso al seggiolino, mentre la rotazione con una mano è comodissima. L'ancoraggio ISOFIX garantisce stabilità e il controllo di rotazione offre sicurezza extra. L'installazione è rapida, che rende la vita più facile per i genitori in movimento. Il design nero è elegante e si integra bene nell'auto. La base è compatibile con seggiolini per bambini, assicurando una lunga durata d'uso. In breve, la Maxi-Cosi FamilyFix 360 i-Size Base offre praticità e sicurezza. Con la sua rotazione innovativa, design intelligente e facilità d'uso, è una scelta eccellente per chi cerca una base affidabile per un seggiolino auto girevole.