JBL Clip 4 Eco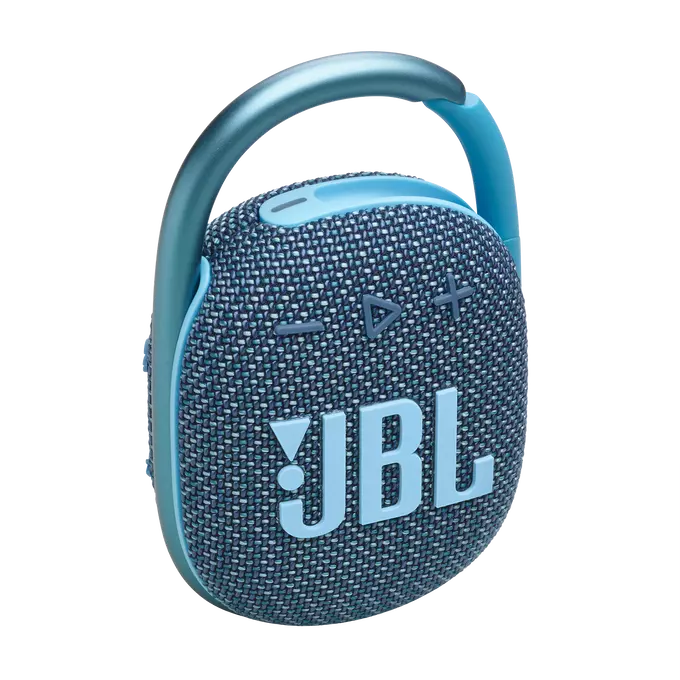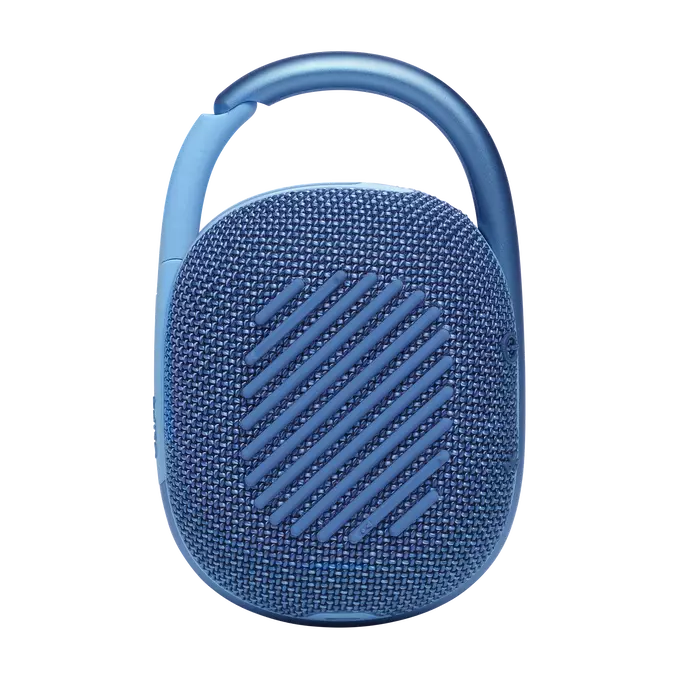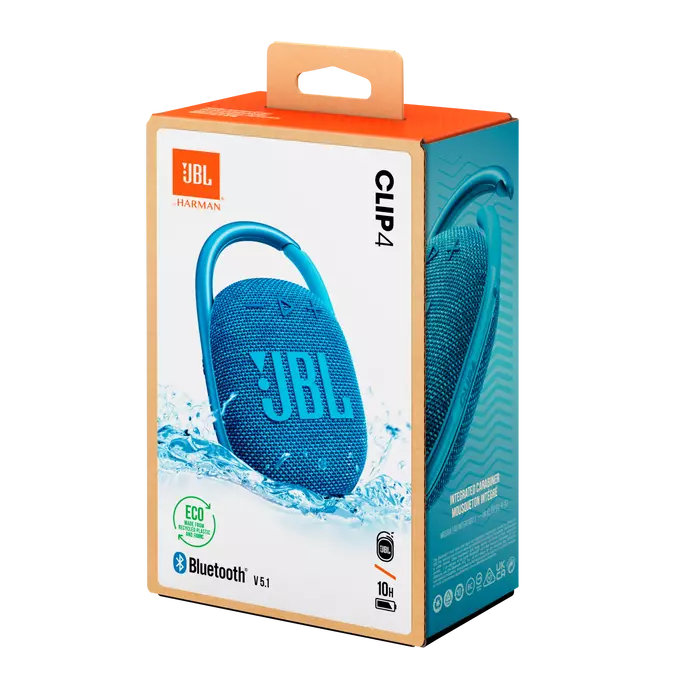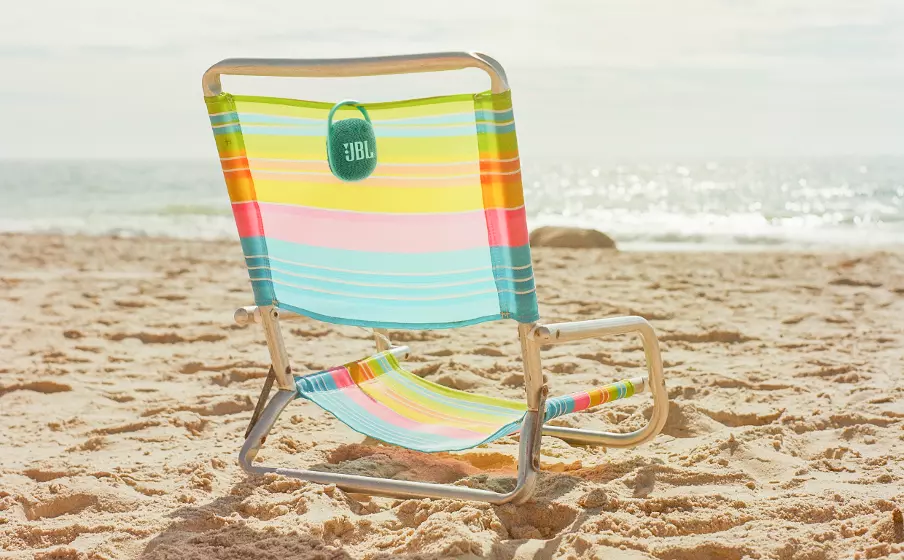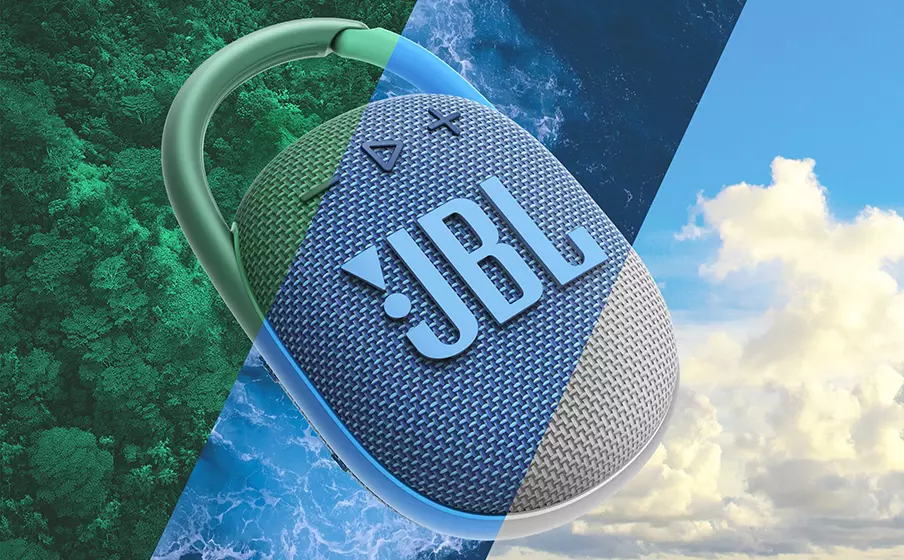 Product Description
New innovative; eco-friendly design—same big audio performance. Help make the world a little greener with a must-have accessory for your next outing; made from up to 90% post-consumer recycled plastic and wrapped in 100% recycled fabric on the speaker grille. The vibrant fresh looking JBL Clip 4 Eco delivers surprisingly rich JBL Original Pro Sound in a compact package. The unique oval shape fits easy in your hand. The fully integrated carabiner hooks instantly to bags; belts; or buckles; to bring your favorite tunes anywhere. Waterproof; dustproof; and up to 10 hours of playtime; it's rugged enough to tag along wherever you explore.
Unique selling points (USP):
Rich JBL Original Pro Sound JBL Pro Sound delivers surprisingly rich audio and punchy bass from Clip 4 Eco' 's compact size
Bold style and ultra-portable design JBL Clip 4 Eco 's ultra-portable design goes great with the latest styles; and its colorful fabrics and expressive details make it look as great as it sounds
Integrated carabiner With a redesigned carabiner that's integrated into the speaker itself for extra protection; take your JBL Clip 4 Eco anywhere and everywhere. Just clip on a belt; strap; or buckle and go explore the world.
IP67 waterproof and dustproof To the pool. To the park. JBL Clip 4 Eco is IP67 waterproof and dustproof; so you can bring your speaker anywhere.
Wireless Bluetooth streaming Wirelessly stream music from your phone; tablet; or any other Bluetooth-enabled device
10 hours of battery life Don't sweat the small stuff like charging your battery. JBL Clip 4 Eco gives you up to 10 hours of playtime on a single charge.
Eco-friendly recycled materials and packaging New innovative; eco-friendly design—same rich JBL Original Pro Sound performance. Created using up to 90% PCR (post-consumer recycled) plastic with 100% recycled fabric on the speaker grille;
Product Specifications
Color

Package Dimensions

12 cm (l)

7 cm (w)

18 cm (h)

Package Weight

2 kg

EAN number
6925281967573
---
Liten och smidig högtalare med fantastiska ljudegenskaper
Jag har använt högtalaren i över en månad och jag är verkligen fascinerad utav att en sådan liten enhet kan ge ifrån sig så bra ljud. Ett plus är att den är vattentät så man inte behöver oroa sig om man tar med sig den till stranden. Enkelt att koppla upp sig via bluetooth och den är liten och robust så jag kan placera den på alla möjliga ställen eller till och med haka på den med kabinhaken. Väldigt nöjd med denna högtalare och jag rekommenderar den varmt till vänner och bekanta.
---
Fantastiskt ljud från en liten enhet!
Jag är super nöjd med ljudet ifrån denna högtalare och ett plus är att högtalaren inte tar så stor plats vilket är en fördel nu under sommaren speciellt när man kanske vill ta med sig ett bärbart ljud till stranden eller när man kanske ska hem till vännen. Riktigt bra pris också för det ljudet. Jag kan varmt rekommendera denna för er som letar efter en högtalare med bra ljud.
---
Klarer Sound und tolles Design
Der JBL Clip 4 Eco hat ein tolles Design und ist sehr robust, was mit kleinen Kindern im Haushalt definitiv von Vorteil ist. Der Lautsprecher ist schnell mit dem Handy verbunden und der Klang ist sehr gut und klar für die Größe der Box. Besonders praktisch finden wir auch den integrierten Karabinerhaken, da die Soundbox somit überall befestigt werden kann. Preis-Leistung ist hier auf jeden Fall top.
---
Täydellinen Joka paikan kaituin
Minun mielestäni aivan mahtava kaiutin hyvällä äänellä joka on todella helppo ottaa mukaan esimerkiksi ulos terassille, uimarannalle ulko saunaan tai autoon. Kun sain kyseisen kaituutimen niin ladasin sen ja olen kuunellut todella paljon sitä muttei akku ole vieläkän loppu, mielestäni akku riittää todella kauan. Äänen laatu on aivan eri luokkaa kuin muut kaiuttimeni vaikka ne ovat isompia kun tämä jbl.
---
JBL´s großartige kleine Outdoorbox
Die Clip 4 ist eine der kleinen Boxen von JBL. Dennoch leistet sie super Arbeit und kann wunderbar mit größeren Boxen ihrer Art mithalten. Optisch gefällt mir die Box mit dem Haken sehr gut. Sie fühlt sich gut an beim Tragen, zeigt, dass JBL gute Arbeit leistet und ist spürbar aus hochwertigem Material hergestellt. Die Musik, die daraus zu hören ist, zeigt einen guten Bass und ist schön, klar und gut. Dazu ist sie noch Wasserdicht und Staubfest, was sie zum Idealen Sommerbegleiter zu jeder Partylocation macht. Die lange Akkulaufzeit ermöglicht auch lange Nächte voller schöner Musik und es macht einfach Spaß sie überall dabei zu haben.
---
Toller Sound und tolle Akkulaufzeit
Ein richtig guter Sound aus einer kleinen Powerbox. Sie hält was sie verspricht. Für Unterwegs ist sie genau richtig, schnell an die Tasche geclipt und los gehts. Die Bedienung ist kinderleicht. Sie ist spritzwasserfest und der Akku hält richtig lange. Das Preis- Leistungsverhältnis ist super! Unsere Kids sind begeistert und wir sind es auch!