JBL Quantum 360X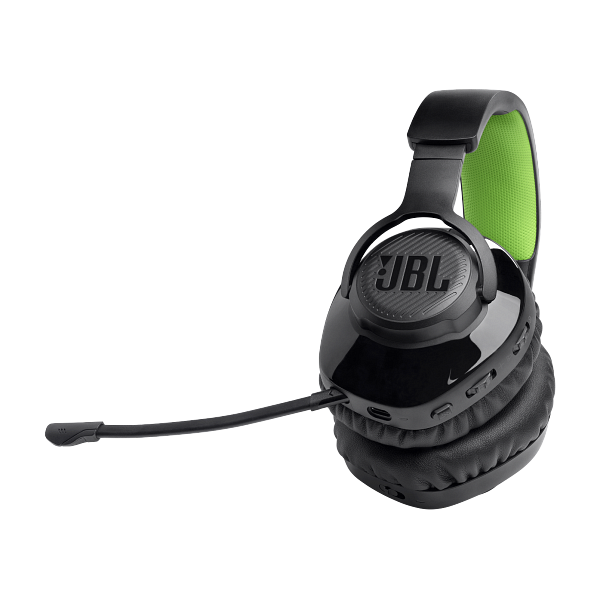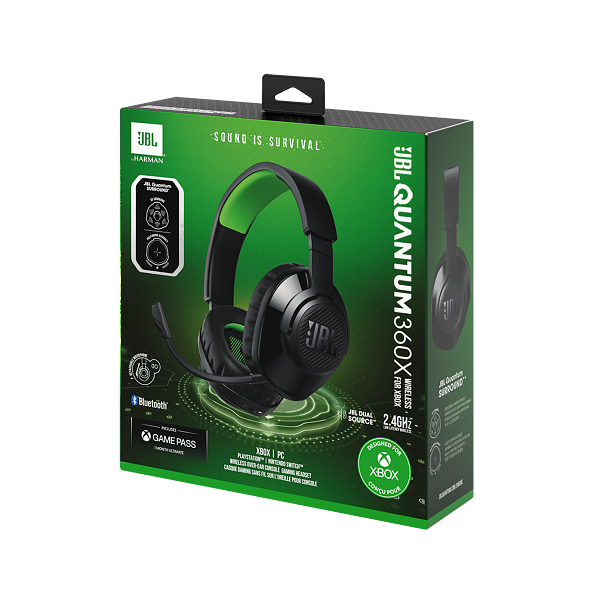 Product Description
Ready to level up your gameplay? Meet the JBL Quantum 360X Wireless for Xbox. This headset also works with PlayStation, Nintendo Switch, PC and Mac. From the quietest footsteps to the loudest laser blasts, JBL's QuantumSOUND Signature puts you in the center of every scene. No matter how crazy the action gets, the detachable, directional voice focus boom mic means your teammates can always hear you clearly. Lossless wireless, up to 22-hour battery life and lightweight memory foam ear cushions means other players never miss a second of mayhem during even your longest gaming sessions. JBL QuantumENGINE PC software fine-tunes the sound for the ultimate competitive advantage. Your opponents won't know what hit them.
Unique selling points (USP):
Never miss a moment with dual wireless connection When split-second timing is key, you can't be tied down to your system. Gaming grade lossless 2.4GHz wireless gives you total freedom of movement, with no audio drops in the heat of battle. This headset is compatible with all Bluetooth enabled devices, such as smartphones and tablets.
Live the game with JBL QuantumSOUND Signature From the quietest footsteps to the loudest laser blasts, cinematic JBL QuantumSOUND signature makes every scene epic. Powered by 40mm drivers, the JBL Quantum 360X Wireless for Xbox fully immerses you in the game for a true competitive edge.
Make your voice heard—or not—with a detachable boom mic with mute feature Even when games get noisy, the JBL Quantum 360X Wireless for Xbox's detachable, directional voice focus boom mic means your squad will always hear you clearly. There's also a handy mute feature if you need to run silent for a secret mission in the real world.
Up to 22-hour battery life, speed charge and play & charge Up to 22 hours of battery life (with dongle, up to 26H with BT) means great JBL sound throughout even your longest gaming sessions. Still need extra time? Five minutes gets you an extra hour of playback time, and you can charge while you play with the USB charging cable.
JBL Dual Source The JBL Quantum 360X Wireless for Xbox allows for the communication to come simultaneously from two sources: while the dongle keeps you connected to the game, the Bluetooth allows you to pick up a call and then seamlessly go back to your game.
Memory foam comfort for marathon game sessions The durable JBL Quantum 360X Wireless for Xbox has a lightweight headband and PU-wrapped memory foam ear cushions for total comfort even during a hardcore all-night epic session.
Make the sound yours with JBL QuantumENGINE PC suite Control what you hear, improve how you play. Use the PC software suite to customize JBL QuantumSURROUND, EQ, sidetone, mic settings, saving your profile settings and more for the ultimate immersive sound experience.
Compatible with Windows Sonic Surround Sound JBL Quantum 360X Wireless for Xbox headset is designed for full compatibility with Windows Sonic Surround Sound, native surround sound built into Xbox Series X l S consoles.
Game audio-chat dial Game Audio-chat balance dial lets you adjust audio levels on the fly. Thanks to separate sound cards, the dial lets you customize the perfect balance of game and chat audio in your headset without a break in the action.
Compatible with multiple platforms "The JBL Quantum 360X Wireless for Xbox headset is designed for Xbox. This headset is also compatible with PC and can be connected wirelessly (via the 2.4GHz) with PC***, Xbox*, Nintendo Switch** and Mac. The JBL Quantum 360X Wireless for Xbox is also compatible with any BT devices. The features powered by JBL QuantumENGINE (JBL QuantumSURROUND, RGB, EQ, Microphone settings etc.) are only available on PC. Check the connectivity guide for compatibility. *Wirelessly compatible with all Xbox models including Xbox Series X l S and Xbox ONE. **Wirelessly compatible with Nintendo Switch when docked only. ***Wirelessly compatible with Windows™ 10/11."
Product Specifications
Color

Package Dimensions

2.5 cm (l)

9 cm (w)

10 cm (h)

Package Weight

2.5 kg

EAN number
6925281960789
---
Goed product vanwege kleine oorschelpen minder geschikt voor mannen
Het geluid is prima van kwaliteit. Voor gamen is het een prima headset! De oorschelpen sluiten de oren goed af ondanks dat ik ze geschikter vind voor meisjes/dames. Voor een man vrij klein vind ik. Er zitten een aantal knoppen op de headset. Deze vind ik qua bediening niet super werken. Nou hoef je ook niet continue hard of zachter te zetten, maar als je dat moet doen dan vind ik het niet helemaal lekker werken. De Headset ziet er gelikt uit. De kleuren zwart met groen vind ik een mooie combinatie. In de oorschelp staat met een 'L' en een 'R' aangegeven voor welke kant oor deze geplaatst moet worden wat handig is.
---
Pelikuulokkeet nopealla yhdistämisellä
JBL Quantum 360X langattomat pelikuulokkeet tarjoavat ensisijaisesti suunnitellun ja käyttäjäystävällisen liitäntäkokemuksen. Yksinkertainen ja vaivaton yhdistäminen sekä irrotettava mikrofoni tuovat lisäarvoa tälle laitteelle, joka on suunniteltu erityisesti pelaajille. Kuitenkin kuulokkeiden äänentoisto ei välttämättä täytä kaikkien käyttäjien odotuksia. Huolimatta JBL:n tunnetusta maineesta ääniteknologiassa, Quantum 360X:n äänenlaatu ei valitettavasti vakuuta, jättäen musiikkikokemuksen ja ääniintensiivisten pelien tarpeet hieman tyydyttämättömiksi. Designin osalta tämä malli on askeettinen, mikä voi olla joidenkin makuun, mutta se voi myös antaa halvan vaikutelman. Mikrofoni ei ole tarkistettu tässä arvostelussa.
---
Trådløst gamer headset fra JBL
Jeg har den senest måned fået lov til at test et headset fra JBL, Quantom 360X for at være mere specifik. Overordnet har de en god størrelse, og sidder godt på øret, en god pladsform. Det er virkelig god og ren lyd når man hører musik. Når man er i opkald, er lyden også skarp og klar, man kan tydeligt hører dem man taler med, og man går rent igennem til dem. Jeg har test det til gaming, både med og uden dongle. De har bluetooth og 2,4 ghz tilslutning med dongle. De har en god lyd og en god respons uden forsinkelse. Virker meget fint i discord, men også in-game i f.eks CS:GO. Jeg er meget tilfreds med dette produkt.
---
Hyvin halpalaatuiset kuulokkeet
Kyseisten kuulokkeiden äänenlaatu on erittäin heikko, joten kuulokkeet eivät todellakaan sovellu musiikinkuunteluun tai peleihin, joissa äänet ovat suuressa osassa pelikokemusta. Design on omasta mielestäni hyvin tyylitön (sekä halvan näköinen). Mikrofoonia en kokeillut. Kuulokkeiden liittäminen/ yhdistäminen oli mielestäni kuitenkin hyvin helppoa ja irroittettava mikrofooni on kätevä lisä. Aluksi luulin, että kuulokkeilla olisi paljon annettavaa, mutta olin väärässä.
---
Stoere, comfortabele hoofdtelefoon met super geluid
Mijn zoon van bijna 9 jaar vroeg me vaak of hij een hoofdtelefoon mocht met een microfoon, zodat hij met zijn vriendjes kon communiceren tijdens het gamen. Ik hield het steeds af, vond het onnodig. Toen ik het voorbij zag komen bij de reviewclub dacht ik. Een mooie kans om het toch te testen. Het pakket werd snel en goed verpakt geleverd. Er zit een duidelijke handleiding bij en een oplaadkabel. We hebben de hoofdtelefoon eerst opgeladen en daarna kon het plezier beginnen. Het is een mooie, stoere en lichte hoofdtelefoon, welke erg comfortabel zit vanwege de lichte hoofdband en de zachte oorkussens. Zowel voor mij als voor mijn zoon. Zakt niet af en blijft goed zitten. Als eerste hebben we het getest op een Windows computer. We hebben de instellingen van de hoofdtelefoon helemaal ingesteld naar onze wensen, middels de JBL QuantumENGINE PC-suite. Erg handig in gebruik. Daarna kon het gamen beginnen. Wat een prachtig geluid. Alsof je midden in de game wereld zit. Ook het geluid van de microfoon was duidelijk. We waren goed te verstaan! Daarna hebben we het geprobeerd op de Playstation 4. Werkte ook perfect! Vooral de lange batterijduur is heel prettig. En mocht de batterij toch leeg zijn, dan is er nog niets aan de hand. Je kan het gebruiken tijdens het opladen! Binnen no time is de batterij weer vol! We zouden deze hoofdtelefoon zeker aanbevelen! Ik snap nu, dat het inderdaad heeel erg handig is voor het gamen :-)
---
Top Sound, lange Akkulaufzeit, geringes Gewicht - ideal zum Shooter zocken!
Das Headset lässt sich über den USB Dongle problemlos mit der PS5 verbinden. Ich spiele CoD damit und bin mit dem Sound und den Annäherungsgeräuschen von Gegner sehr zufrieden. Das Headset ist außerdem angenehm leicht, verfügt über eine gute Reichweite und überragende Akkulaufzeit. Was mich etwas stört, ist die Haptik. Es fühlt sich im Vergleich zu anderen Headsets eher nicht so wertig an, deswegen hat es für fünf Sterne nicht gereicht. Dem Spielspaß tut das natürlich keinen Abbruch, deshalb kann ich es weiterempfehlen