JBL Charge 5 Wi-Fi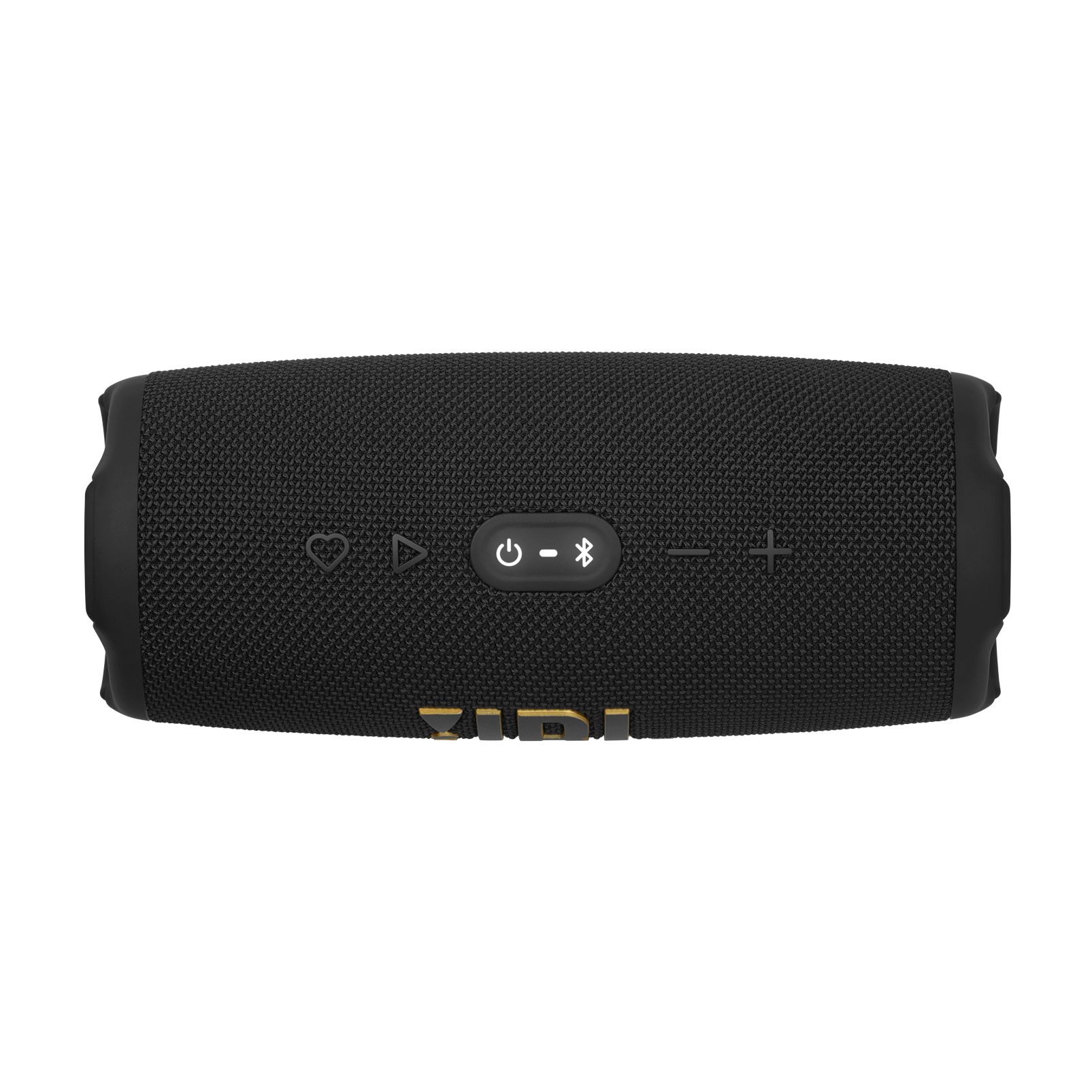 Product Description
Play and charge wherever you are
Go where you want to go, hear everything. The powerful JBL Original Pro Sound and
the deep bass of the JBL Charge 5 portable Wi-Fi speaker
and Bluetooth ensure that you take your own personal beat with you wherever you go
you can take to. Stream music anywhere via WiFi while using your phone
can continue to use. Do you want to call or scroll through your feed? Just
doing! Your music will not be interrupted. Switch easily
to Bluetooth and continue to enjoy seamless audio experiences, both
inside as outside. The waterproof, dustproof portable speaker
has a battery life of 20 hours, whether you're chilling in the park or dancing
by the pool, and is provided with a handy power bank for you
devices charged. Stream music via AirPlay, Alexa
Multi-Room Music, Chromecast built-in™ and Spotify Connect. And the
eco-friendly design, with recycled fabric and plastic, helps each
adventure a little greener.
JBL CHARGE 5 WI-FI
Portable WiFi and Bluetooth speaker

Unique selling points (USP):
Powerful JBL Original Pro Sound with deep bass tones Fill the air with pure, powerful JBL Original Pro Sound with deep, powerful bass tones
Wifi and Bluetooth connectivity Stream over WiFi anywhere, while using your phone. Do you want to call or scroll through your feed? Just do it! Your music will not be interrupted. Switch simply switch to Bluetooth for seamless audio experiences, whether you are indoors or outdoors
Portability with a battery life of 20 hours Enjoy your music while you easily take the JBL Charge 5 with Wi-Fi with you from one room to another, to the beach or into a pool party the backyard. With a battery life of up to 20 hours, you can play music from sunset to sunrise
Built-in Wi-Fi with AirPlay, Alexa Multi-Room Music, Chromecast built-in™ and SpotifyConnect Listen to all your favorite music. The JBL Charge 5 with WiFi gives you the convenience and the flexibility of a seamless open streaming ecosystem that supports a wide range services. Stream music via AirPlay, Alexa Multi-Room Music, Chromecast built-in™ and Spotify Connect. Enjoy all your favourites audio, internet radio and podcasts in high definition quality
Water resistant and dustproof Thanks to the IP67 water and dust resistance of the JBL Charge 5 with WiFi, you can the portable speaker can handle virtually any environment, from a party to the swimming pool to a picnic on the beach Charge with the built-in power bank Don't put good times on hold. Thanks to the built-in power bank you can charge devices without having to interrupt the music
Handy portable speaker for indoor and outdoor listening The self-adjusting function of the JBL Charge 5 with Wi-Fi detects using of dual built-in microphones the environment of the speaker and optimizes the audio quality for the best possible sound experience. Or the speaker is placed in a room or outdoors
JBL One app Customize sound settings and control all your compatible JBL Wi-Fi devices speakers. The JBL One app helps you easily set up the Charge 5, personalize settings and through the integrated music services browse to find your new favorite song
Environmentally friendly, recycled materials and packaging Make your listening experience a little greener. The JBL Charge 5 WiFi speaker contains recycled plastic and recycled materials for the speaker grille. In addition, the speaker comes in a durable packaging made from FSC certified paper, printed with soy ink
Product Specifications
Color

Package Dimensions

15 cm (l)

13 cm (w)

12 cm (h)

Package Weight

1.7 kg

EAN number
6925281953637
---
Fantastisk god højtaler og enkel
En helt fantastisk nem højtaler, den har en rigtig god lyd og er rigtig enkel at bruge. Den holder batteri længe og lever fuldt ud til vores forventninger. Den har det , desværre med at blive væk...- meeen så finder jeg den på en af mine teenagers værelse ;) Jeg har brugt den både til musik, lydbøger og mindfulness og der har den absolut kunne dække mine behov. Det er helt sikkert den bliver et stort ønske på min og med garanti også på mine teenage drenges ønske seddel. Jeg har selv haft kæmpe glæde af at bruge den til især lydbøger da jeg lever med kroniske hovedpine sygdomme og ikke altid kan tåle se tv. Jeg er vild med den er helt enkel at 'sætte op'. Den 5 stjerne får den ikke og udelukkende kun fordi den forvrænger lyden når man skruer højt op. Men det har jeg kun gjort for at teste den, da dette aldrig vil blive et behov for mig.
---
Excelente calidad. Sonido espectacular
Me encanta este producto, proporciona un sonido de muy buena calidad tanto en interiores como en lugares exteriores. Excelente sonido una fidelidad muy buena buena distribución de los graves y los bajos, sin olvidar sus 20 horas de batería lo recomiendo mucho me ha gustado demasiado… muy buen volumen para usar en la intemperie
---
Gran altavoz inalambrico con Bluetooth
Este altavoz con Bluetooth es de una calidad superior, su diseño moderno y compacto, nada pesado ni aparatoso, resistente al agua y polvo. Pocos botones, fácil de manejar, se enlaza con otros dispositivos muy rápidamente. Y la calidad de sonido es lo más importante de este dispositivo, sonido claro y potente.
---
Buena calidad de sonido, fácil de usar
Suena super bien, con un volumen muy alto, buen alcance de bluetooth la batería dura mucho aun poniendo la música alta .Muy bonito exteriormente. Tengo un Bose minisoundlink, ya tiene un tiempo, y se nota que este es mucho mejor, los bajos, la duración de la batería... todo Lo volvería a comprar sin duda
---
Je kunt er echt prima een feestje mee bouwen
De JBL Charge 5 wifi heb ik inmiddels een aantal weken uitgebreid kunnen testen. In de tuin, woonkamer, badkamer en op mijn werk. De box is eenvoudig in gebruik en makkelijk te koppelen via bluetooth. Ik gebruik 'm elke dag om muziek te luisteren, zowel zachtjes op de achtergrond als lekker hard als ik dat nodig vind. Je kunt er echt prima een feestje mee bouwen en dat uit zo'n kleine box! Ik ben heel tevreden met deze aankoop! Het geluid is mooi vol en helder. De batterij gaat verrassend lang mee, wat erg prettig is. Ook kan je de box als powerbank gebruiken. Via de app van JBL heb je nog een equalizer. Minpunt, zoals bij vele apparaten tegenwoordig, heb je wel een (korte) kabel, maar geen steker erbij.
---
Bonne enceinte pour emmener partout
Je suis vraiment satisfait de cette enceinte. Le design est très sympa, le son est vraiment top, elle est petite et un peu lourde mais elle envoie un bon son, j'en suis vraiment content et elle est facile à emporter partout, que ce soit à la plage, en balade etc. Je ne peux que recommander cette belle enceinte !