Bebeconfort Road Safe i-Size Booster Car Seat
BEBECONFORT
|
Baby & Kids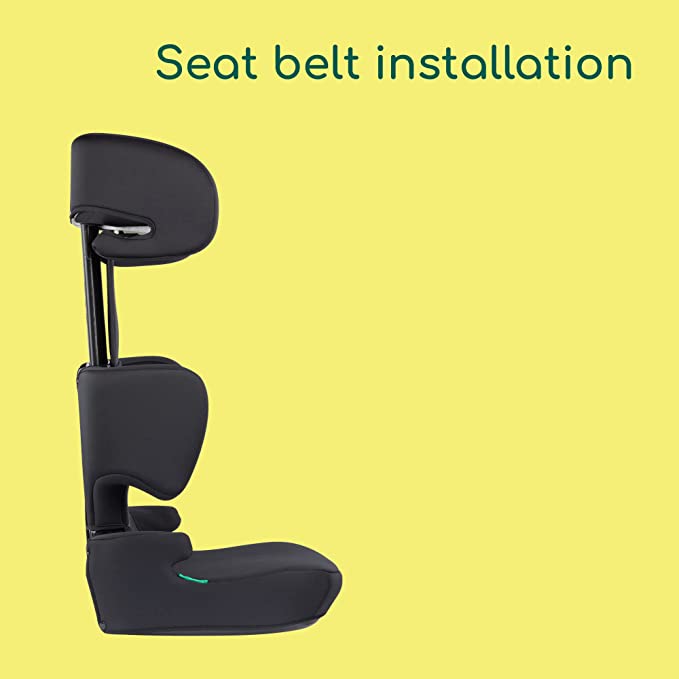 Product Description
"The adventures of your little explorer can start with the Bebeconfort Road Safe i-Size booster seat. Designed to let your child enjoy the great; big and exciting outdoors while on the move. This lightweight booster seat is suitable for children from approximately 3.5 years old up to approximately 12 years old; for children with a height between 100 and 150cm. As safety is paramount when your little one is going out to discover the world; the Road Safe i-Size forward facing car seat meets the highest and latest i-Size safety standards to ensure maximum protection for your child. This booster seat can easily be installed using the seat belts of your car. Comfort is; next to safety; one of the main priorities for you as a parent when transporting your child. Therefore; Road Safe i-Size has superior cushioning; an extra padded seat and a cushioned headrest which can easily be adjusted to 14 different positions with one hand. Road Safe i-Size weighs less than 3kg and thanks to the unique compact foldable design of the seat; you can easily transport it and install it in different cars with the seat belts of your car. Let the adventures unfold with the Bebeconfort Road Safe i-Size booster seat."
Unique selling points (USP):
Safety - the Road Safe i-Size booster seat can be installed via seat belt installation and meets the highest and latest i-Size safety standards to offer your child maximum protection||Comfortable - the superior cushioning; extra padded seat and adjustable cushioned headrest ensure comfortable rides for your little one
Lightweight car seat - the Road Safe i-Size booster seat weighs less than 3kg
Easy to use - Road Safe i-Size is compact foldable and lightweight; which makes it easy to transport and to install in different cars
One hand headrest adjustment - in 14 different positions; to ensure a perfect fit for your growing little one
Seat belt installation - quick and easy installation using the seat belt of the car
Limitations:
Only for children between 3 to 12 years old
Product Specifications
Color

Package Dimensions

25 cm (l)

46 cm (w)

60 cm (h)

Package Weight

3.9 kg

EAN number
8102300210
---
Totalmente Recomendado por su calidad y precio
Dado que la seguridad es primordial cuando su pequeño sale al mundo, la silla de auto orientada hacia delante Road Safe i-Size cumple las normas de seguridad i-Size más estrictas y recientes para garantizar la máxima protección a su hijo Esta silla de coche es adecuada para niños de entre 100 y 150 cm de altura, para edades comprendidas entre los 3,5 años y los 12 años aproximadamente,
---
Handig inklapbaar autostoeltje
Het autostoeltje bebeconfort is makkelijk te plaatsen in de auto en is heel licht. Hierdoor kan ik ook makkelijk de stoel wisselen tussen die van mij en mijn man. Als het stoeltje opgeklapt is past het zonder problemen in de achterbak van mijn kleine stadsauto. Heel handig als je wat extra ruimte op de achterbank nodig hebt. Het stoeltje oogt veilig. De hoofdsteun is soepel te verstellen. Ik vind zelf de kussen van de stoel wat dun lijken maar mijn dochtertje van 3,5 jaar geeft aan dat ze lekker zit in de stoel!
---
Aanrader wat ons betreft in de categorie zitverhogers
Wij zijn erg tevreden over de Bebeconfort Road Safe i-Size-zitverhoger. Wij vinden het een ideaal ding. We hebben het idee dat hij heel veilig is, wat voor ons het belangrijkste is. Echter, ons dochtertje lijkt er ook goed comfortabel in te zitten, wat zeker ook een belangrijk punt voor ons is. Soms maken we lange ritten en dan is comfort natuurlijk echt een must. De zitverhoger voldoet aan de hoogste veiligheidsnormen. Wat wil je nog meer? Hij is eenvoudig in gebruik te nemen. Je kunt de hoofdsteun gemakkelijk in verschillende standen zetten. Wat ons betreft een aanrader als je op zoek bent naar een betaalbare, maar veilige zitverhoger.
---
Fijne makkelijke autostoeltje voor kids
Erg fijne autostoel. De autostoel zit er mooi uit en voldoet aan de veiligheidseisen. Onze dochter kan makkelijk in en uit de stoel klimmen. Ze geeft aan de stoel ook erg lekker te vinden zitten. De stof is makkelijk schoon te houden. Ik vind het grootste voordeel aan het stoeltje dat je deze kan inklappen wanneer je hem niet gebruikt. Kortom een erg fijne stoel die ik zou aanbevelen.
---
We love this car seat very much
We love this car seat. My 3 year old is safe and comfortable. He has fallen asleep in it numerous times and his neck and heard are supported. He feels so grown up in his 'properly chair'. I love that we can wash the covers. That is essential (especially with potty training). I loved the packaging it came in as there were little animal masks we could cut out and decorate.
---
Fácil instalación pero sin Isofix
Nos ha gustado mucho,es ligera,fácil de instalar en el coche y sobretodo muy fácil de regular para que se adapte al tamaño del peque. Por ponerle una pega,y esto fué por no darme cuenta,me hubiera gustado más que llevase Isofix,pero la verdad que así es súper cómoda para poderla mover entre nuestros coches porque la instalación es de menos de un minuto. La parte de la cabeza sujeta súper bien si se duerme. Se limpia muy bien con un trapo húmedo.