Bosch ErgoMaster Series 4 MSM4W210
Product Description
Korkea suorituskyky – täydelliset tulokset
ErgoMaster sauvasekoitin 600 watin moottorilla tarjoaa aina ihanteellisen sekoitussuorituskyvyn. Sen avulla voit helposti käsitellä kaikkia sekoitus-, sekoitus- tai paloittelutöitä. Keittojen, dippien tai kananmunien vatkaaminen – ErgoMaster hallitsee sen.
Helppo käsitellä ja intuitiiviset nopeusasetukset
Nauti intuitiivisesta ja erityisen helposta nopeuden hallinnasta kahvan voiman avulla. Mitä tiukempi ote erittäin suuresta vivusta, sitä suurempi on nopeus. Tämä toimii vain sormillasi tai peukalolla, mikä on kätevää sekä oikea- että vasenkätisille. Lukituksen avaamista ja nopeuden säätöä voidaan ohjata yhdellä kädellä, koska päällekytkentälukko on integroitu ohjausvipuun. Turvavapaus varmistaa, ettei tahattomia käynnistyksiä.
Ruostumattomasta teräksestä valmistettu veitsi ja AntiSplash-toiminto
QuattroBlade Systemin erittäin terävä 4-teräinen ruostumattomasta teräksestä valmistettu veitsi varmistaa kaikkien ainesosien tehokkaan leikkaamisen ja tasaisen koostumuksen, myös kovien ainesosien. Kellon muoto vähentää tehokkaasti roiskeita.
Mukana monipuoliset tarvikkeet
valmistus ei ole koskaan ollut helpompaa. Sekoitatpa sitten maukkaita keittoja, valmistat dippejä tai kastikkeita: ruoanvalmistus on helppoa. Dekantterilasi, jossa on käytännöllinen mitta-asteikko, toimii täydellisesti sekoitusjalassa ja on BPA-vapaa.
Unique selling points (USP):
Strong 600-watt motor
Dynamic speed control
QuattroBlade System ensures efficient cutting – without splashing
BPA-free beaker with measuring scale
Ergonomic anti-slip grip
Product Specifications
Color

Dimensions

5.7 cm (l)

7.8 cm (w)

38.5 cm (h)

Weight

1 kg

EAN number
4242005398492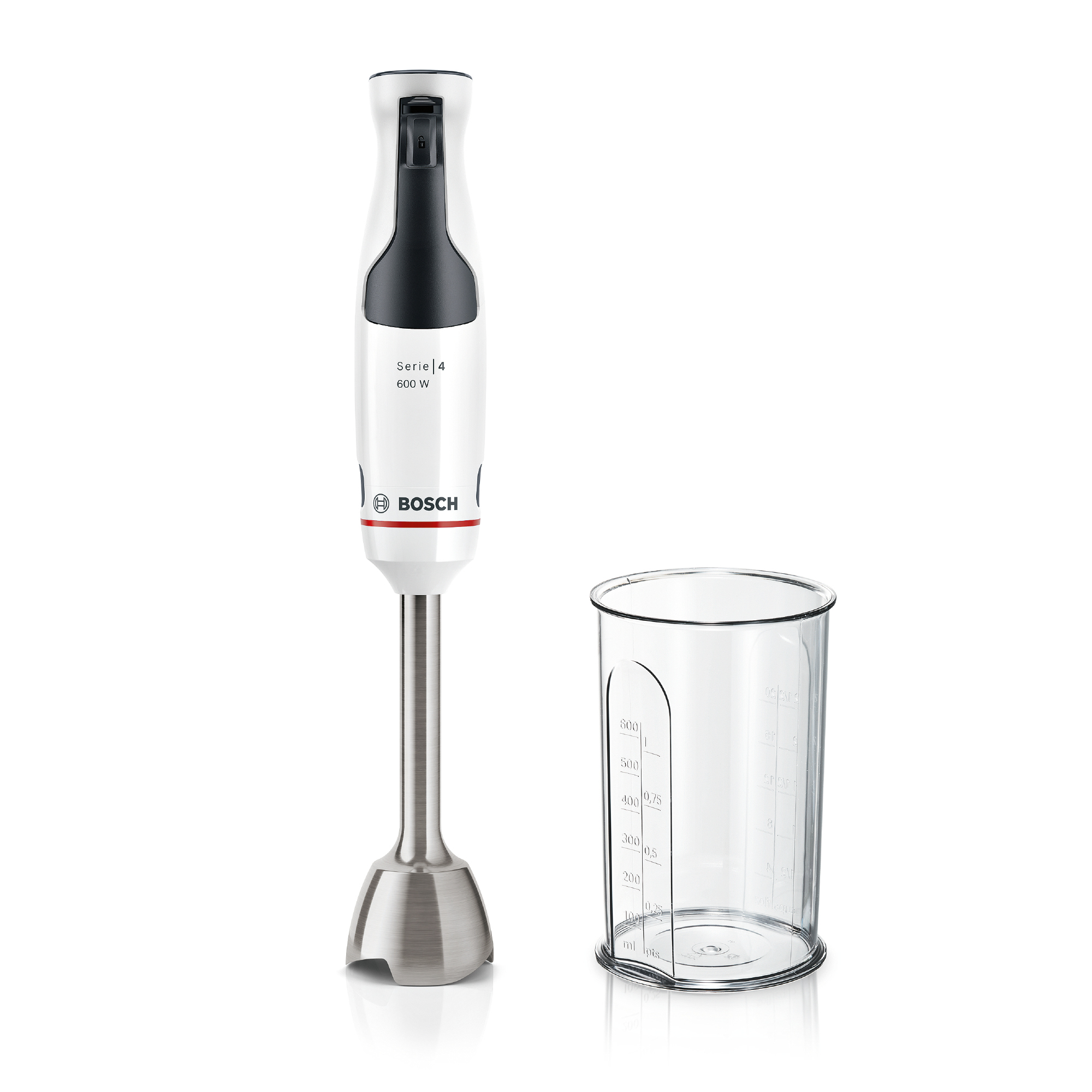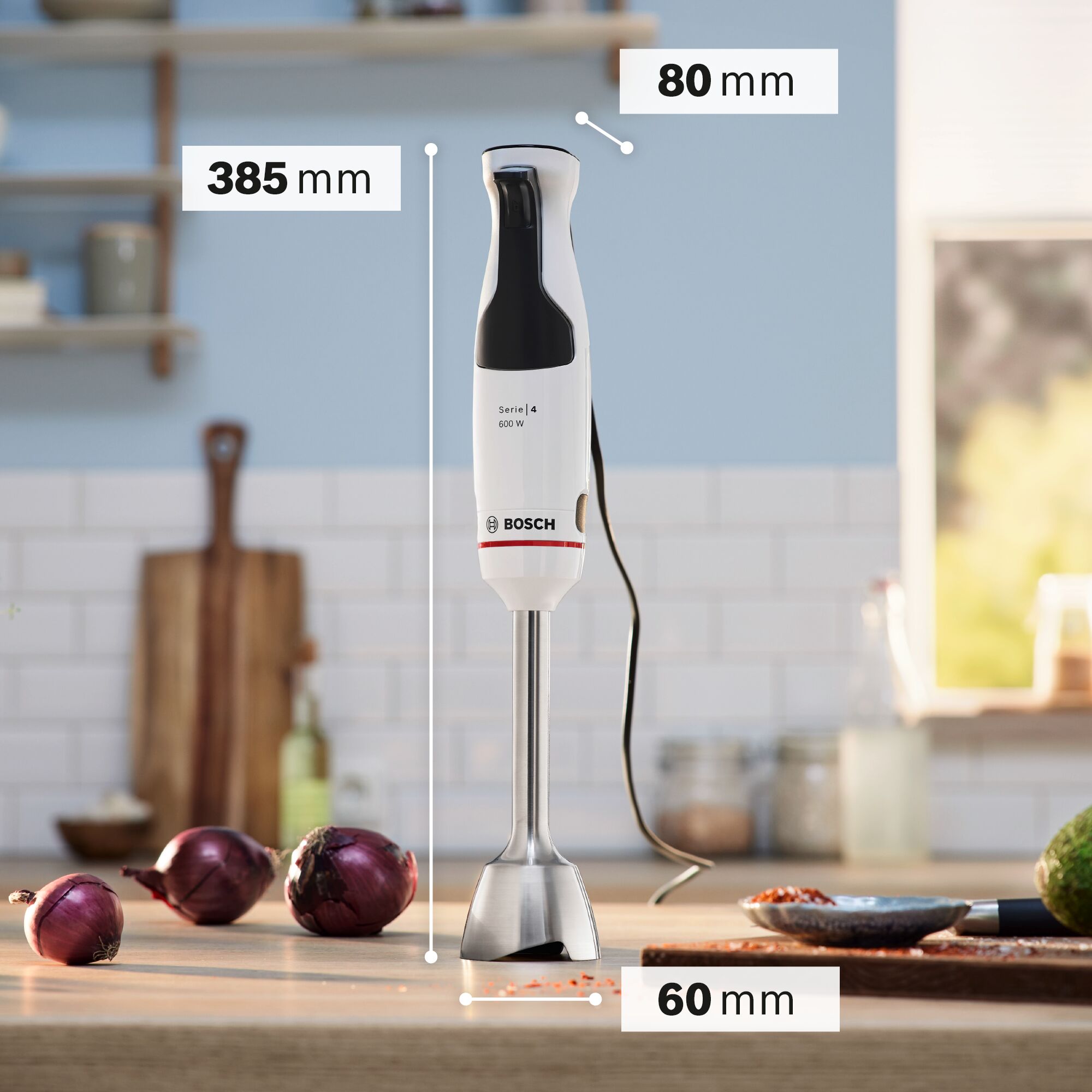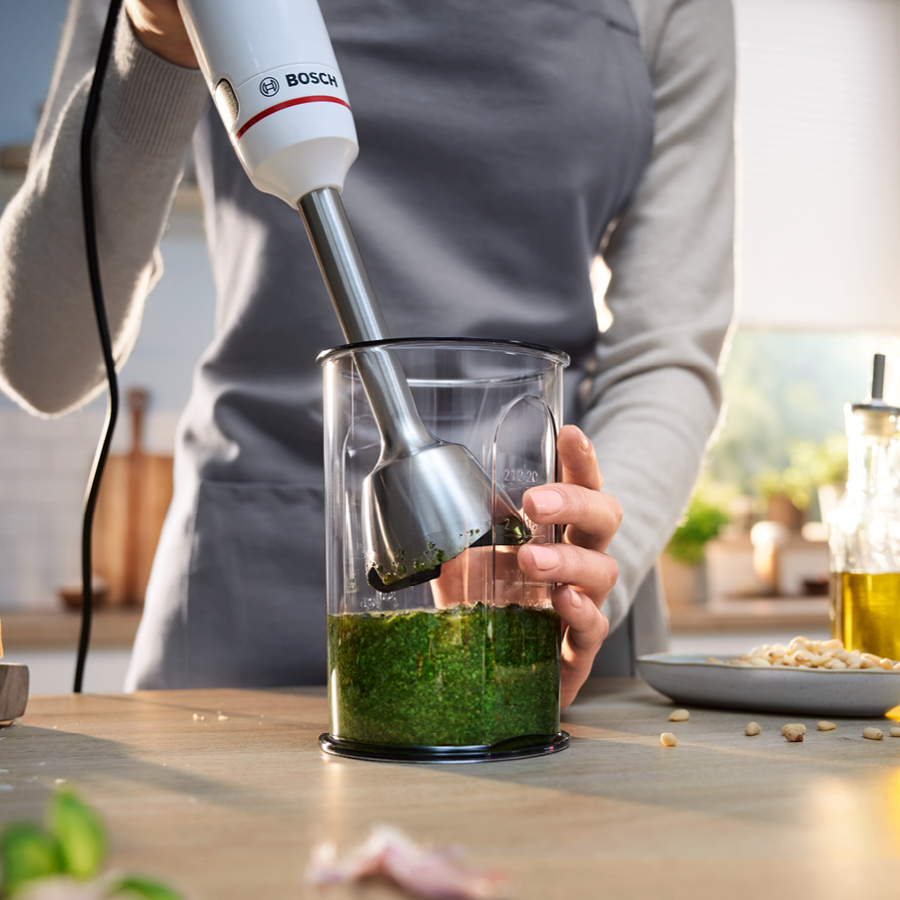 Do you want to test this product?
Your mission during the test:

Write reviews

In this test:

You will receive the product

Countries:

Finland

Language:

Finnish